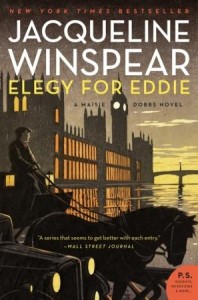 Elegy for Eddie by Jacqueline Winspear
Publication Date: October 30th
Publisher: Harper Perennial
Source: Publisher - THANK YOU!
Early April 1933. To the costermongers of Covent Garden—sellers of fruits and vegetables on the London streets—Eddie Pettit was a gentle soul with a near-magical gift for working with horses. So who would want to kill him . . . and why?
Maisie Dobbs's father, Frankie, had been a costermonger, and she remembers Eddie fondly. But it soon becomes clear that powerful political and financial forces are determined to prevent her from learning the truth behind Eddie's death. Maisie's search for answers on the working-class streets of Lambeth leads her to unexpected places and people: to a callous press baron; to a has been politician named Winston Churchill; and, most surprisingly, to Douglas Partridge, the husband of her dearest friend, Priscilla. As Maisie uncovers lies and manipulation on a national scale, she must decide whether to risk everything to see justice done.
The Skinny: An exciting mystery with great descriptions
This is my first time reading a
Maisie Dobbs novel, and I have immediately fallen in love.
Elegy for Eddie
is the 9th book in this series, but I did not feel lost or unable to keep up with the story. Enough information is provided to allow this book to be a standalone. Maisie Dobbs is an investigator with an interesting past. She was a nurse during WWI, worked as a housemaid, and lived in an undesirable part of town during her childhood. After an employer took notice of her intelligence, she was mentored and given the sort of opportunities that allowed her to create a successful business. I recently watched Call The Midwife on PBS, and I can easily see Maisie starring in her own show. She is smart, generous, kind, and cunning. I can't wait to read the previous 8 novels and wait impatiently for the 10th.
When Eddie, a beloved man from Maisie's hometown dies, she is asked to investigate his death to determine if he was not an accident as officials have claimed. During the course of her investigations, Maisie realizes that people are connected in ways that she could not imagine. Though the pacing is quite quick, every revelation felt like a slammed door. I did not see events unfolding the way they did.
Winspear's writing is so good. The way she describes characters is so perfect that I a able to see them just as she created. When she wrote that one character needed a brown robe to take on the persona of a monk, an image formed in my head, and I am certain that most readers had the same picture. It is not just her descriptions of characters, though, that are striking. When she describes Maisie's feelings about her beau, I also knew exactly what she wanted us to understand. The concept about a field and Maisie roaming around it, avoiding her decision about her future is a clever way of describing one's state of mind.
I feel sad for myself that I have missed out on reading this series. I have recently discovered the joy in mysteries, and I highly recommend Elegy for Eddie to everyone.

Maisie is the type of character that I desperately wish would come alive. She is loving and supportive of her friends, kind and compassionate to her clients, and inspires admiration from those around her. If you are looking for a good mystery, look no further. Elegy for Eddie is everything you want and more.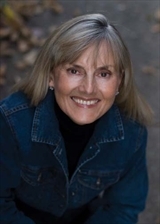 Jacqueline Winspear was born and raised in the county of Kent, England. Following higher education at the University of London's Institute of Education, Jacqueline worked in academic publishing, in higher education, and in marketing communications in the UK. She emigrated to the United States in 1990, and while working in business and as a personal / professional coach, Jacqueline embarked upon a life-long dream to be a writer. A regular contributor to journals covering international education, Jacqueline has published articles in women's magazines and has also recorded her essays for KQED radio in San Francisco. She lives in California and is a regular visitor to the United Kingdom and Europe. Jacqueline's novels thus far—Maisie Dobbs, Birds of a Feather, Pardonable Lies, Messenger of Truth, An Incomplete Revenge, and Among the Mad, The Mapping of Love and Death, and A Lesson in Secrets are set in the late 1920s and early 1930s, with the roots of each story set in the Great War, 1914–1918. Her work has been nominated for numerous awards.