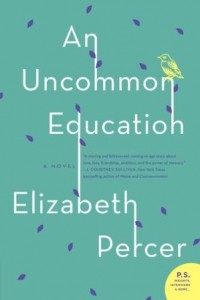 An Uncommon Education by Elizabeth Percer
Publisher: Harper Perennial
Publication Date: anuary 8, 2013
Source: Publisher – Thank you, Harper!
Rating: I really liked it
Afraid of losing her parents at a young age, Naomi Feinstein prepares single-mindedly for a prestigious future as a doctor. But when her only friend and confidant abruptly departs from her life, Naomi isn't sure she will ever recover, even after a long-awaited acceptance letter to Wellesley arrives. Yet Naomi soon learns that college isn't the bastion of solidarity and security she had imagined. Amid hundreds of other young women, she is consumed by loneliness—until the day she sees a girl fall into the freezing waters of a lake. The event marks Naomi's introduction to Wellesley's oldest honor society, the mysterious Shakespeare Society, defined by secret rituals and filled with unconventional, passionate students. As Naomi immerses herself in this exciting and liberating world, her happiness is soon compromised by a scandal that brings devastating consequences. Naomi has always tried to save the ones she loves, but sometimes saving others is a matter of saving yourself.
The Skinny: Voice, voice, and more voice
At ALA Annual last year, I saw people with copies of An Uncommon Education, and I was saddened that I missed out on meeting Elizabeth Percer. My disappointment has vanished now that I am able to help celebrate the paperback release of this wonderful book. An Uncommon Education tracks the life of Naomi, a girl who experiences loneliness and loss so profound that she carries the mark throughout her life. When Naomi's best friend is suddenly ripped from her life, she is unable to cope and her unresolved feelings follow her to university.
Naomi is a wonderful narrator. She is consistent, believable, and real. I could hear her voice so strong and so loudly. As the story progressed, I could hear how her childhood nervousness transformed into careful observations. Her mature handling of situations marks Naomi's development from childhood to adulthood, and I was astonished at certain points of the story at how she dealt with surprising revelations. The one character that held my attention was Teddy. Though we spend quite a bit of time with him at the beginning of the story, he hangs on every page like a reluctant cloud. His relationship with Naomi is extraordinary, and their love for each other is so meaningful that it has become one of the love stories that I will treasure the most. They spun around each other like twin flames. Too seldom are people fortunate enough to find someone who loves unconditionally and deeply. What Elizabeth did with Teddy and Naomi is incredible. She did not trivialize young love. She gave it power and meaning.
Elizabeth Percer held my heart in her hands and gently squeezed it throughout the story. I am the type of reader who will experience events right alongside the characters. They become my friends, and I love and cherish them. With Teddy, I felt so dreadfully sad. His story unfolds slowly – like a child unwrapping a treasured present – and it is so beautifully written that I felt hopeless and lost. How amazing that a writer can convey a story so exquisitely while simultaneously evaporating cheerfulness in the world. It is apparent that Elizabeth has a talent of tenderly describing events and unpacking them to show readers how her characters end up. I was riveted, and I will automatically buy any book that Elizabeth writes. She is a talented writer, and I am certain that she will receive great admiration for her work.
I highly recommend An Uncommon Education by Elizabeth Percer. It is a lovely story and the writing is perfect. Simply perfect.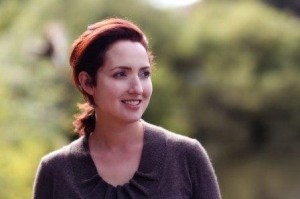 Elizabeth Percer is a three-time nominee for the Pushcart Prize and has twice been honored by the Dorothy Sargent Rosenberg Foundation. She received a BA in English from Wellesley and a PhD in arts education from Stanford University, and completed a postdoctoral fellowship for the National Writing Project at UC Berkeley. She lives in California with her husband and three children. An Uncommon Education is her first novel. Visit Elizabeth at her website and follow her on Facebook.
Check out the rest of the tour!