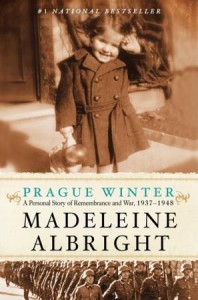 Prague Winter by Madeline Albright
Publication Date: February 19th
Source: Publisher – Thank you!
Rating: I really liked it!
Before Madeleine Albright turned twelve, her life was shaken by the Nazi invasion of her native Prague, the Battle of Britain, the near-total destruction of European Jewry, the Allied victory in World War II, the rise of communism, and the onset of the Cold War. Drawing on her memory, her parents' written reflections, interviews with contemporaries, and newly available documents, Albright recounts a tale that is by turns harrowing and inspiring. In Prague Winter, Albright reflects on her discovery of her family's Jewish heritage many decades after the war, on her Czech homeland's tangled history, and on the stark moral choices faced by her parents and their generation. At once a deeply personal memoir and an incisive work of history, Prague Winter serves as a guide to the future through the lessons of the past—as seen through the eyes of one of the international community's most respected and fascinating figures.
The Skinny: An incredible memoir and riveting read
I majored in political science in college, so I am quite familiar with Madeline Albright's political legacy. I have always admired her ability to influence policy and hold her own in an institution that is saturated with masculinity. Reading PRAGUE WINTER was an illuminating experience. I learned more about the woman behind the Secretary of State, and I was surprised to read that she was affected by the Nazi invasion of Prague. It is curious that we learn so much about a person's profession but hardly take the time to learn more about her personal life and experiences that often shape one's career choice.
Madeline Albright's candor makes this memoir one of the most fascinating that I have read.
PRAGUE WINTER is written in a way that invites readers into a life that has been well-lived, if that makes sense. I felt as if I were sitting with Madeline and drinking a cup of tea with her while she spoke about her time in a Swiss boarding school and about her father's role as an ambassador. Madeline's story is conveyed crisply and cleanly – I did not have to decipher facts from fictionalized tales.
I highly recommend PRAGUE WINTER for readers who are interested in politics, war, and policy. The history lessons that are embedded within the text are detailed, and I greatly enjoyed Madeline's insightful comments. PRAGUE WINTER is thoughtful, thorough, and a must-read.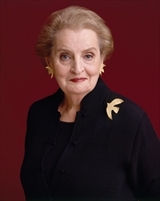 Madeleine Albright served as America's sixty-fourth secretary of state from 1997 to 2001. Her distinguished career also includes positions on Capitol Hill, on the National Security Council, and as U.S. ambassador to the United Nations. She is a resident of Washington, D.C., and Virginia.