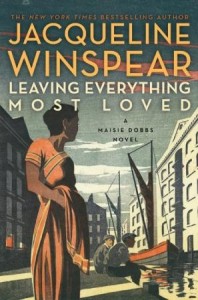 Leaving Everything Most Loved by Jacqueline Winspear
Publication date: March 26th
Source: Publisher – thank you!
Rating: I really liked it!
In Leaving Everything Most Loved by New York Times bestselling author Jacqueline Winspear, Maisie Dobbs investigates the murder of Indian immigrants in London. The year is 1933. Maisie Dobbs is contacted by an Indian gentleman who has come to England in the hopes of finding out who killed his sister two months ago. Scotland Yard failed to make any arrest in the case, and there is reason to believe they failed to conduct a thorough investigation. The case becomes even more challenging when another Indian woman is murdered just hours before a scheduled interview. Meanwhile, unfinished business from a previous case becomes a distraction, as does a new development in Maisie's personal life. Bringing a crucial chapter in the life and times of Maisie Dobbs to a close, Leaving Everything Most Loved marks a pivotal moment in this outstanding mystery series.
The Skinny: A turning point in a great mystery series
I was introduced to
Maisie Dobbs
by TLC Book Tours last year when I was on the blog tour for Elegy for Eddie, and I am so happy that I met Maisie. I love this series and I love the characters! In the last book, Maisie encountered several situations that changed her professional and private lives. In Leaving Everything Most Loved, she must finally make a decision about the direction of her life. Should she continue her practice? What about her relationship with James? Maisie's life spins rapidly around her until she thrusts out her hands and points in a direction.
When an Indian woman is murdered, Maisie investigates the circumstances of her death and learns more about a culture that entices not only her but also her late mentor. During Maisie's investigation, she is nudged gently to make choices about her future. Her beau, father, Sandra, Pris, and Billy all make appearances and help her on her quest to solve the Indian woman's death and the complexity of her life.
The characters in Leaving Everything Most Loved are just as wonderful as they were in past books. Maisie is strong and modern, but I love her vulnerability with James the most. They are quite the pair, and I really enjoyed reading how their relationship develops. They are mature and can see that they love each other but need to allow the other to live a life that does not include the other person. It is an incredibly romantic and loving action that both Maisie and James are willing to undertake.
Leaving Everything Most Loved is a fork in the road for the series, and I am excited to see what adventures Maisie will experience in the next book. I want more Priscilla and her witty remarks. I want more James. And I want more of Maisie being the strong and courageous heroine.
I highly recommend that you read this book. It is a fun series with great writing. Jacqueline Winspear is a fantastic storyteller. She nails the twists and turns and the emotional lows and highs. Ah! I just want the next book so badly.
Have you read any of the Maisie books? Are you a fan of mysteries?